Chinese Dragon Boat Festival Arts and Crafts Exhibition at The Palm House
中國端午節藝術與健康画展
Date: 18th-21th June 2023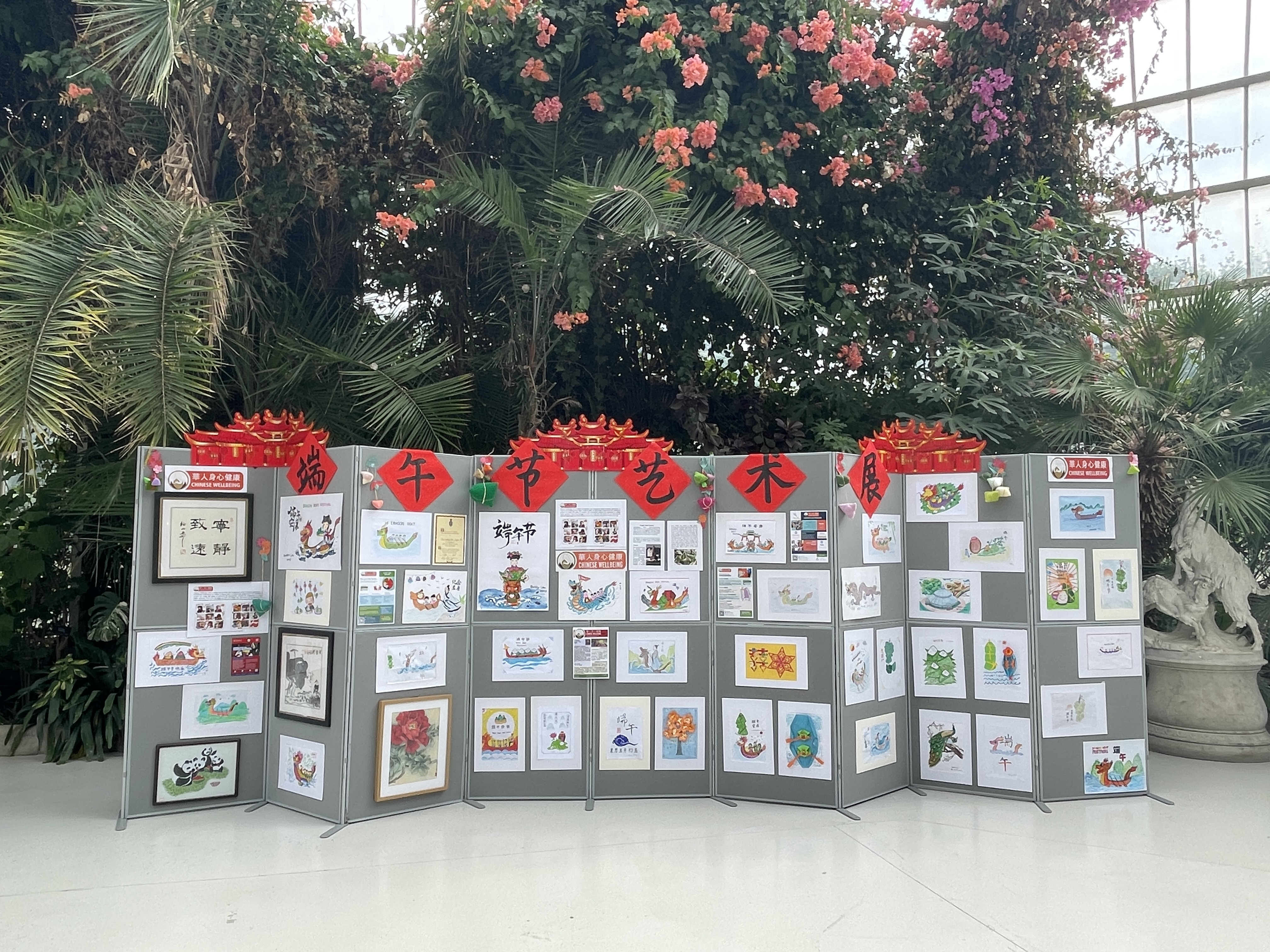 The Dragon Boat Festival is an important traditional Chinese festival held in remembrance of a famous patriotic poet, Qu Yuan.  Chinese people place a strong emphasis on traditional values and cultural activities, especially the older generation who seek to preserve and uphold this popular celebratory event. Evergreen Club arts group was delighted to share traditional customs of the festival through an Arts Exhibition featuring wellbeing and cultural diversity and exchange. The exhibition was open to visitors from 18th – 21st June at Sefton Park Palm House. Members  visited the exhibition and left feeling a sense of accomplishment and pride at having their artwork on display. The exhibition was a great success and engaged the local community in Chinese culture and traditions. Those taking part would agree that creative and cultural participation is a key contributor to wellbeing and an improved quality of life. We would like to give a big thank you to the National Lottery Heritage Fund, Sefton Park Palm House for hosting the exhibition, Confucius Institute Liverpool for gifting a Festival calligraphy and our dedicated staff team and Arts Group for their wonderful contributions which made the exhibition such a success. 
端午節是中國重要的傳統節日之一,為紀念著名的愛國詩人屈原。中國人非常重視傳統價值觀和文化活動,尤其是長者,他們力求保存和維護這一民間的慶祝活動。常青俱樂部藝術小組很高興通過以福祉和文化多樣性與交流為主題的藝術展覽來分享節日的傳統習俗。該展覽於 6 月 18 日至 21 日在塞夫頓公園棕櫚屋向遊客開放。會員們參觀了展覽,離開時為自己的作品得以展出而感到成就感和自豪感。展覽取得圓滿的成功,讓當地社區了解了中國文化和傳統。參與展覽的會員們都同意,創意和文化參與是幸福和提高生活質量的關鍵因素。我們衷心感謝國家彩票遺產基金會、塞夫頓公園棕櫚屋主辦本次展覽、利物浦孔子學院贈送的節日書法以及我們敬業的工作人員團隊和藝術小組的精心貢獻,使本次展覽如此精彩和成功。
---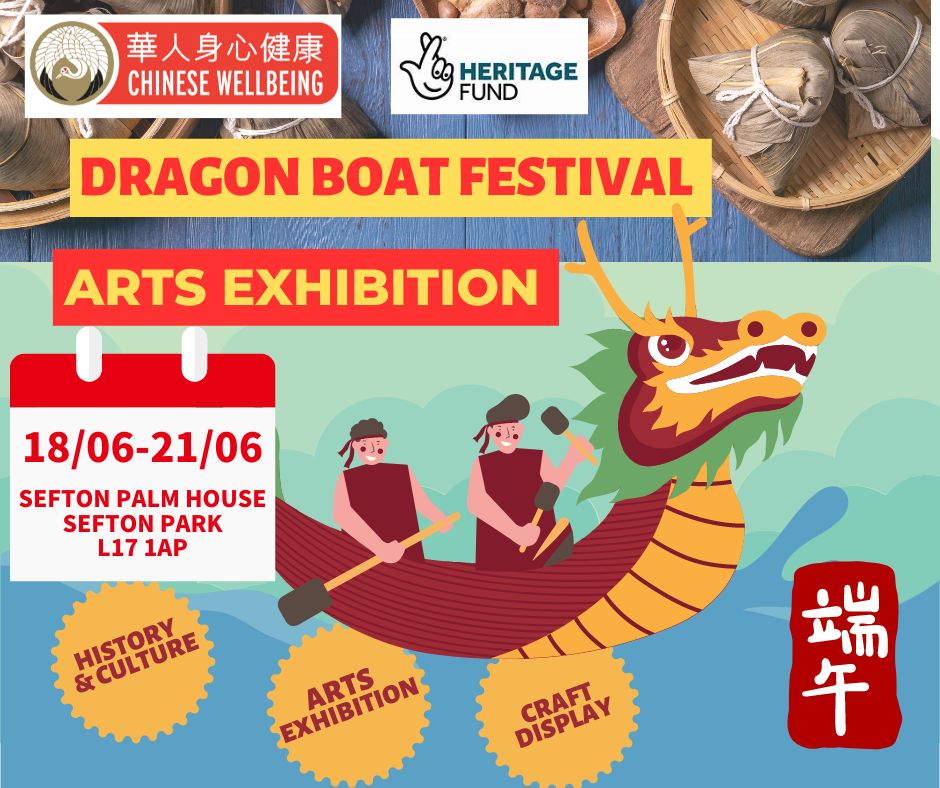 Chinese Wellbeing runs a varied and dynamic arts programme using innovative approaches to improve the wellbeing our elders. The Dragon Boat Festival is a traditional Chinese holiday which occurs on the fifth day of the fifth month of the Chinese Calendar; it is also called "Double Fifth Festival", Longzhou Jie" or "Duanwu Jie". You may already know the racing dragon boats and eating Zongzi, but there are many other facts you may find interesting. Please come and see the arts we have created for Chinese Dragon Boat Festival exhibition and learn more about different culture and traditions.
華人身心健康運用創新方法開展多樣化和充滿活力的藝術項目,以改善我們長者的福祉。農曆五月初五的端午節是中國傳統節日, 又稱"重午節"、"龍州節"或"端午節"。您可能已經知道賽龍舟和吃粽子,但還有許多您可能會感興趣的端午節事實。歡迎您前來觀看我們為慶祝中國端午節創作的藝術作品,了解更多不同的文化和傳統。